Baby Carriages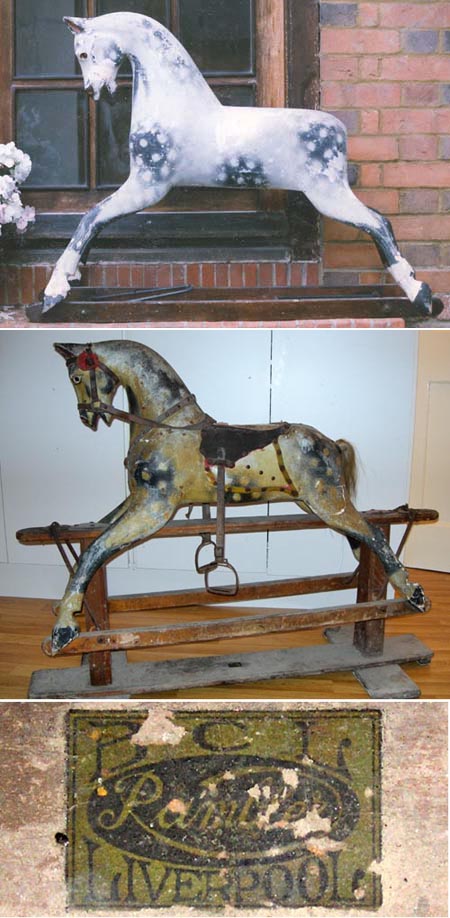 David Kiss's book ( 2008 ) has provided new information on Baby Carriages Ltd.
It was incorporated in 1906 and this was the new name give to the old firm of Hill & Harrison (1884 - 1906). Apparently BC was not linked to the Collinsons as previously thought.
They had a factory in Liverpool and also used the trade name Rambler for several models. They stopped trading in 1963.
The more recent Baby Carriages horses have stands that are practically identical to Collinson stands (rectangular section pillars, diamond shaped covers on top of the pillars) but otherwise they have their own clear style.
Firstly, if they have their original paint, the dapples are in a traditional pattern (see left and below) unlike the overall bold painting on Collinson horses.
Secondly the shape is different. They have distinctly overbent heads ie the nose is pulled in to the chest. The heads are attractive with glass eyes although some small horses, like some small Collinsons, had no teeth.
Scroll down for a good example of a small ( 36 " high ) original condition Baby Carriages horse. This horse has the BCL Rambler manufacturers stamp on the stand - in the centre of the bottom rail and it is shown in the last photo.
The picture of this horse and the Rambler stamp were kindly provided by
Rob Thomson of Mystic Mounts in Edinburgh.

On large horses ( and I don't have a good picture of one ) the body shape is not as generous as the Collinson horses; it is really rather thin and mean, particlularly falling away at the hindquarters. The legs may look rubbery as some are too curved at the elbows and stifles and some have over large feet. However the heads and necks of the larger models can be magnificent with careful extra carving giving the horse a noble experssion.

email jane@oldrockinghorses.co.uk for further information
Back to main page